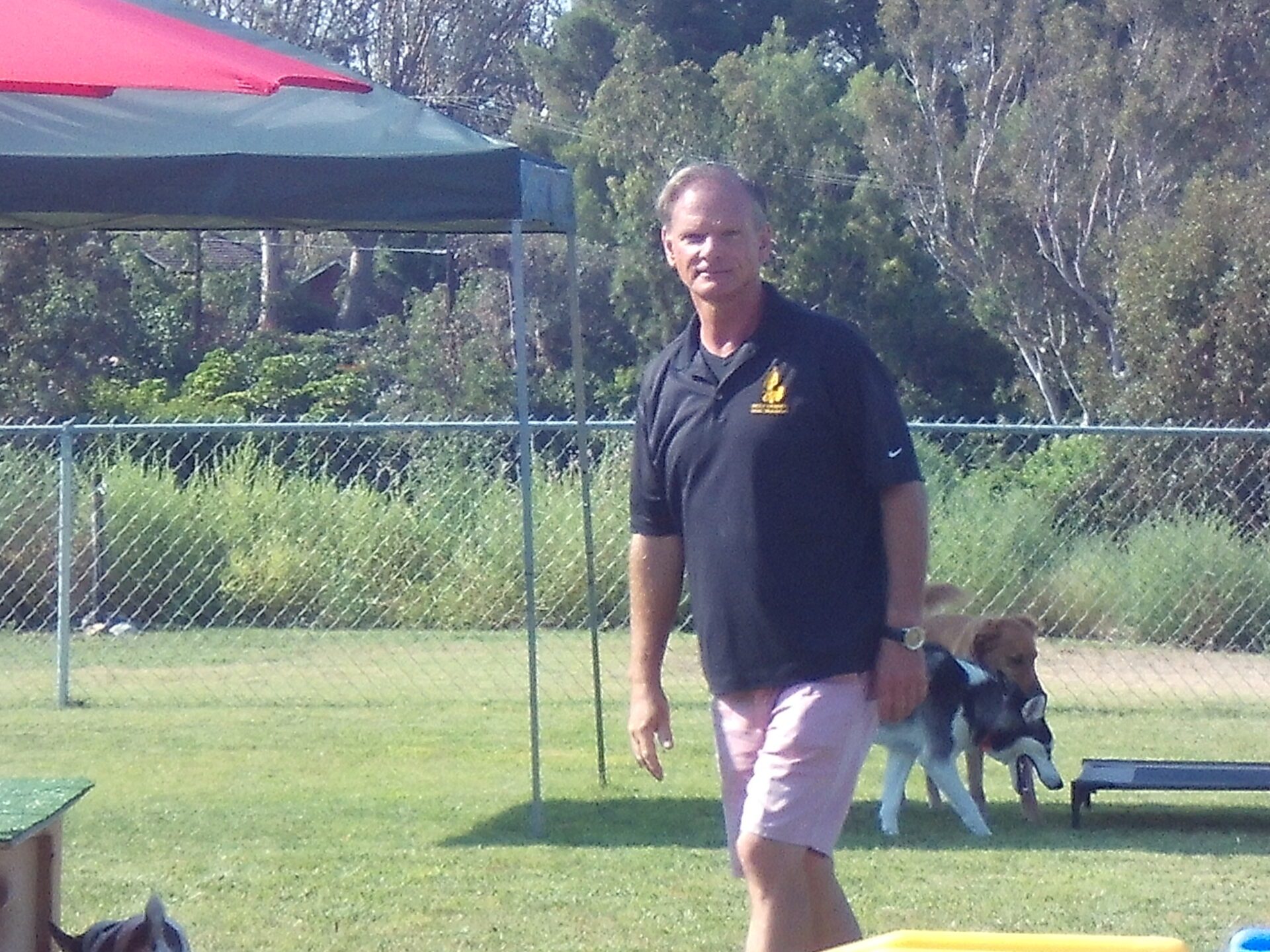 - ALOHA -
HERE - TO - SERVE Customized Dog Training & Puppy Raising Program
James Sutherland established Best Friends Dog training in Orange Country California in 1987 with the intent to serve this community in a tangible and meaningful way. Specializing in providing tailored dog training services including: Inboard Training, Breeder-to-Boot Camp Puppy Program, we take your New Puppy Home at 8 weeks or so. No Sleepless Nights, No Cleaning up accidents. We Got This!.... Enjoy coming soon, dog training videos available to purchase through the site. 

Meet Como....Check out the slide show to the right. - Como came to us at 8 weeks old, returned home at about 5 months old. So well mannered even the owners 2 yr old daughter enjoys him.....This is my Breeder-to-Boot Camp Puppy Training Program. You bring your puppy to me or we pick them up and I do all of the work!  We take your puppy to our home/training camp to: housebreak, crate train, not to jump, house manners, home etiquette, no chewing on people & home, and much more....We also obedience train all the basic commands such as walk with a leash and not to pull, sit, stay, lay down, and come. No sleepless nights, crying, barking, separation anxiety. You wont have to call a trainer to fix your puppy at 6 months old...WE GOT THIS..CALL US TODAY TO GIVE YOU & YOUR FAMILY THE JOY OF A WELL-BEHAVED PUPPY!"
Check out some reviews and what our clients are saying about our dog training school in Newport Beach, California:

James has more than met his reputation. His knowledge is undeniable. He met with us the week before we were welcoming a 9 week old Goldendoodle to our home. He walked us thru everything we needed to know to welcome Nitro to our home and make him feel secure and loved from the minute he arrived. We followed his lead and Nitro slept thru the night within 3 days in his crate ( never cried or barked)and now after only month he walks right in there at 8 PM when i say "its time to go night night". He silently waits for us to let him out at 6am. It's his safe place, his den. He was never locked in there for punishment or forced in there unwillingly. He takes 2 hour naps in his crate during the day. Nitro was also potty trained within 10 days by following James's advice and his training method exactly as he told us. Nitro is 15 weeks old and he is the most loving, social and also well trained puppy I have seen. My Vet can contest to that, she said "he is well beyond his age when it comes to socialization and training". James has truly made this process so much easier on all of us. He stays in contact between visits to check in and answers questions any time over the phone between visits. Cant say enough great things about James.
Jurevich Family, Newport Beach

Some may say Dog Whisperer, others may say Godsend. We say both! We have a beautiful, sweet 3 month old chocolate lab (Koko) – we nicknamed her KUJO, for her aggressive attack nature. One second, she is a sweet, loving chocolate Labrador puppy and the next KUJO. Growling, biting, hurling, ATTACK mode. James saved us and saved our sweet puppy. James taught us how to bring out the best of our Labrador. We have referred him to several of our friends, family, and neighbors. The BEST Dog trainer. We look forward to group training.
~ AMagallanes
Newport Beach

Fearful St Bernard 14 month old puppy. Snapped & bit one time out of fear. We did have some previous training, but lapsed on it. My dogs behavior grew more fearful. Didnt know what to do as I have anxiety issues around people., and was embarrassed to go back to the old trainer as a failure. Two of my family members assured me james could help. The comfort of having family members there, training with their dogs, and the confidence they had in james being able to help correct my dogs behavior keeps me going. You learn to be the leader with your dog.It's a process that helps you and the dog.
~ Basketcase
Newport Beach

We have a 3 yr old Australian Shepherd named Jet. He is our 3rd Aussie and James was our 1st dog trainer. Jet is big for the breed and was a handful as a pup. I knew right off this guy would need a real dog trainer. My neighbor gave me James's info and told me she was signing her new pup up for lessons. I decided to do it, and never looked back. We started with puppy school and continue with agility and advanced/off leash training. James is truly the best, he connects with dogs in an incredible way and he definitely fixes the humans too!! I highly recommend James the Dog Trainer!

My dog and I love going to dog training. James makes class interesting and fun. I have learned so much from him. He truly is a fountain of knowledge and very willing to share that knowledge with his class. He is absolutely amazing to watch with the dogs, he truly has a very special gift. You will not find a more dedicated dog trainer. heart
~ Lynette & Bella
Newport Beach

James has really helped us with our Rottweiler Emma! She is a very stubborn willful dog even now. James saw immediately that I was the disciplinarian and Sam was the softie. It was a problem because Emma learned that she got away with more when Sam was in charge! James worked with us both to help us have a united front with Emma. She is now a well-behaved dog and Sam and I are on the same page when training her! He helped us work to get a great pup and kept us from disagreeing over how to get Emma there!!!! Kind of a marriage counselor too... lol!
~ Sally Purdum Camarillo
Newport Beach