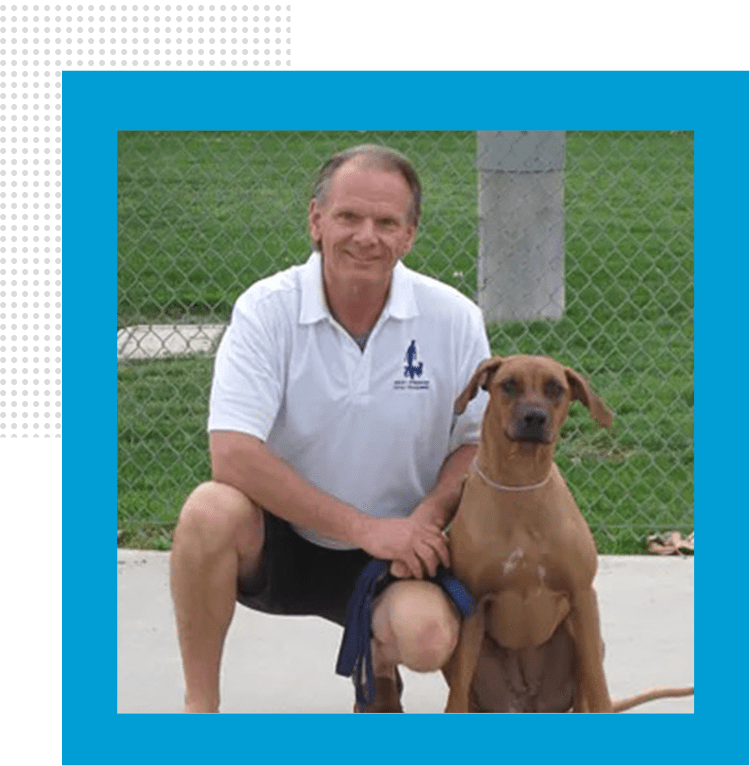 Serving Southern
California Since 1987
James Sutherland redefined dog training standards with Best Friends Dog Training By James since 1987. The business aims to serve Southern California communities in a meaningful way, making homes as happy as possible with your four legged dog friends.
With his passionate services, James is reputable as the "Original Dog Whisperer of Orange County." His vast professional experience includes working discreetly with the rich and famous to donating his talents in treating troubled dogs and families. Get expert dog training by James and meet challenging circumstances with confidence. The primary focus is on our fur clients and dog owners for personalized and custom training.
See What Our Clients
Are Saying
Check out the testimonials and reviews of some of our happy clients:

James took an impossible situation and established control! He trained 3 puppies for us; one after the other. We learned that the owners had to be trained as well! It was tough (still is), but I believe no one else could have accomplished was James did. His expertise, patience, and understanding are beyond compare. We will forever be grateful to Mr. James Sutherland...Thanks a million!

My neighbor was recommended to James and when he shared it was outdoor training I was 100% on board. James has been instrumental in learning not only on obedience , however, the importance of being an educated and responsible pet owner. James always takes the time to answer questions and model areas of need. Price is very reasonable for the amount of time James takes to support me and my classmates. If you are looking for quality work, I highly recommend James.

James is a true dog whisperer. He has a string knowledge of dog psychology and understanding of human behavior which distinguishes him from other dog trainers. I tried two dog trainers prior to James for Cody, my Bichon Frise. Neither managed to even teach him basic obedience. James was able to immediately identify Cody's problems, take care of his negative in-home activities, and teach him basic obedience. But that wasn't all James did. He went farther and trained Cody for the AKC Canine Good Citizen test, which Cody passed with flying colors. Prior to James, I would never have imagined Cody doing that. James has made a real difference in out lives with his patience, persistence, and his caring nature.

James is an amazing Dog person. He loves what he does and it shows when he gets a leash in his hands. I brought my pit bull to James for socialization only. I was pretty confident my dog didn't need training. He was already a well mannered dog. A few classes later I learned well mannered was not the same as obedience trained. James taught me how to be confident and assertive with my dog. I especially love how he allows you and your dog to have bad days, but doesn't let you leave until you and your dog "figure it out".

James is simply the best!!! No doubt about it. I tried a different trainer for 6 months, spent lots of money with no results. That trainer didn't care, just kept taking my money. I definitely saw great results in a short amount of time after training with James. Another difference with James is, he genuinely cares the training works. That both you and the dog gets it. He is not going to just train and then you're on your own. James is committed to be of service and will always be there for you if refreshers are needed or you have questions. He knows dogs, how they think, what their behavior means, kinda like the dog whisperer. He trained my 1 and 1/2 year old Akita, husky, Thai ridgeback mix Iris and 2 year old Boxer, English pointer, GSP mix Logan. Both dogs are high energy, strong and were difficult to manage together, out of control jumping and pulling. James trained them to heel, sit, down and down/stay. Iris the Alpha in the household is a different dog. Still the same lovey and silly spirit. Just I have more control when she is starting to get out of control. Walking them is now enjoyable, instead of prior to James, when it was a challenge. I can't thank James enough for making my life easier, training my dogs and training me.

James changed our world! We had no clue what we were getting into when we spontaneously bought a puppy Husky. It was a nightmare until we found James. He took Koda from a wild puppy to the sweetest, calmest, most obedient pleasure of a pet we could have ever dreamed of. We continue with regular training and playtime with James and Ruth to keep him "tuned up". James and Ruth and Best Friends Dog Training can't be beat!

James is great! River has known him since him was a puppy. We've done day care, dog training, and owner training